From Olympics to ISL, British Star Duncan Scott Has Been Consistently Excellent
Somehow, 
Duncan Scott is still underrated. The 24-year-old from Alloa, Scotland, made his first Olympic final at age 19 and then spent the next five years entrenching himself as an individual medal contender on the global stage and a key contributor to gold-medal contending British relays. At first, he had some trouble swimming his best races in individual finals, but he broke through with a bronze medal in the 200 free at the 2019 Worlds, and most memorably, he anchored Britain's 400 medley relay to gold at the 2019 World Championships by providing a 46.14 split, the second-quickest in history, to storm past American
Nathan Adrian.
At this summer's Tokyo Olympics, Scott was, by all accounts, brilliant. He swam a 1:44.26 to become the seventh-fastest man ever in the 200 freestyle, and three days later, he recorded a 1:55.28 in the 200 IM, where he also jumped to seventh all-time. On Great Britain's 800 freestyle relay, he dove in to anchor with an advantage and extended it, his 1:43.45 split ending up as the race's quickest by far and locking down Great Britain's first Olympic gold medal in a relay since 1908. He didn't quite have the firepower to again run down the Americans on the medley relay, but he secured another silver for Great Britain.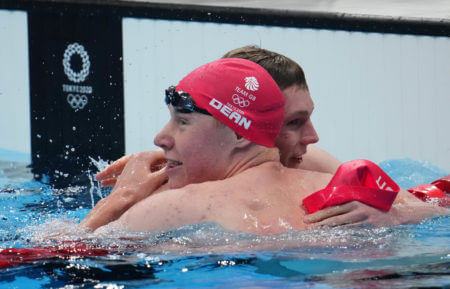 The only knock was that Scott finished without an individual gold. Despite Scott's furious final 50 in the 200 free final (26.46), British compatriot 

>Tom Dean still managed to sneak past him at the finish and steal away gold

. In the 200 IM final, surprising Chinese swimmer 

>Wang Shun was just a smidge better coming home

, even as Scott moved up from fifth and picked off his competitors down the stretch on his way to a silver medal.
So Scott put together two gold-medal level swims in an Olympic final, only for a surprising swimmer to get to the wall in front of him each time. And it's not like there is a ton of overlap between the 200 free and 200 IM, with 
Michael Phelps and 
Ryan Lochte the only others in recent decades to excel in both. But without an individual gold to complete his steady ascencion to the pinnacle of swimming, Scott was never going to get quite the credit he deserves.
Well, if we needed any more proof as to Scott's skill, versatility and even value as a swimmer, he has supplied that with his efforts so far in the International Swimming League regular season. No, these ISL matches are not glamor events, and short course is obviously a different animal than long course, but consider what Scott did just this weekend for the London Roar during Match #6. On Saturday, he finished third in a highly-anticipated 200 IM — and there's no shame in finishing behind
Daiya Seto and 
Caeleb Dressel in a short course 200 IM. Next, he swam the 400 freestyle, an event in which he hardly ever appears, and he won in 3:41.14, less than a second off this season's fastest time.
During Sunday's action, Scott competed in four races, finishing first in the 100 free (by 0.03 over teammate 
Katsumi Nakamura), first in the 100 IM (by two tenths over 
Thomas Ceccon) and first in the 200 free (by a more comfortable eight tenths). After all that, the Roar asked Scott to swim the 400 IM, and that strategy did not pan out as Scott ended up seventh and he lost his points in a jackpot, but not many swimmers are taking on the challenge of that many events, some of them very different in nature, in one two-hour session. And Scott is the first swimmer, female or male, to win both the 400 free and 100 IM at the same ISL match.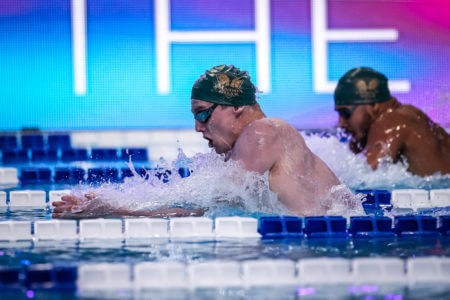 With Scott racing so many individual events was relays, he ended up skipping all relay action during Match #6. He will not be their top medley relay freestyler with
Kyle Chalmers on the Roar, but London ended up winning the 400 free relay by two seconds even without Scott. The Roar's strategizing paid off big time with a match victory. No London swimmers ended up finishing in the top three for match MVP, but they swept the next four spots on that list, led by Scott in the No. 4 spot.
No, Scott is not flashy, a record-breaker or a stat-stuffer, but he is about as steady and solid as they come. For Great Britain, he has always delivered his best on all-important relays while he has learned how to excel in World Championship and Olympic finals, and for the London Roar, he can do just about anything they ask in order to put together a match-winning combination.
So could we say that a man who won four Olympic medals including one gold is quietly putting up one of the best years possible for a swimmer? That seems like the most apt description for Scott's consistent excellence in 2021.
Source : https://www.swimmingworldmagazine.com/news/from-olympics-to-isl-british-star-duncan-scott-has-been-consistently-excellent/
1525